The Business Environment Sentiment Survey 2007 just released by the Viet Nam Business Forum (VBF) shows both domestic and foreign firms have faith in the country's business climate but still worry about red tape, land access, and infrastructure.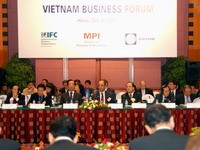 The Viet Nam Business Forum opens in Ha Noi on December 4
The survey, conducted last October, reported higher scores than last year.
Ninety percent of the 234 enterprises polled said they intend to expand their operations over the next three years thanks to a positive economic outlook, freer market, reforms under WTO commitments and a growing domestic market.
Analysts attributed this higher rating to foreign and domestic laws becoming more synchronized. However, 43 percent of the surveyed enterprises are concerned about overlapping legal documents and excessive paperwork, 39 percent about government's efforts to stamp out corruption, 37 percent about legal developments and 37 percent about improving education.
However, the poll also reveals that Viet Nam needs to become more competitive in infrastructure, intellectual property rights, bureaucracy, taxation, management, availability of skilled labor and land access.
Ly Dinh Son, Deputy Chairman of the Viet Nam Association of Small and Medium Enterprises, said his members have extreme difficulty acquiring land in major industrial zones.
The VBF is a structured and on-going dialogue between the Vietnamese Government and the business community to develop a more favorable business environment. It is organized by the Ministry of Planning and Investment, the International Finance Corporation and the World Bank.
At a VB Forum held in Ha Noi yesterday, Minister of Planning and Investment Vo Hong Phuc said Viet Nam could attain middle-income status by next year.
Its average per capita income has been targeted at US$960 next year, about $1,100 by 2009. This year's figure is expected to reach $835.
At the event, Ajay Chhibber, Country Director of the World Bank in Viet Nam, said that the US$15 billion in foreign investment capital registered in the first 11 months of 2007 was up 38% over last year and is expected to reach $16 billion for the whole year, proving Viet Nam is becoming more attractive to foreign investors.
"Viet Nam has seen rapid progress in meeting the requirements of an open economy and in implementing WTO commitments," said International Finance Corporation Country Manager Sin Foong Wong.
 
"We look forward to working with all our members and partners, both Vietnamese and European, to maximize their success in an ever more vibrant Viet Nam," Wong added.
EuroCham Chairman Alain Cany responded by pledging his organization's continued support.
A recent survey by the Japan Bank for International Co-operation shows that 2007 is the second year Viet Nam has maintained third position in the rankings of "promising regional countries over the medium term", after China and India.
In related news, over 70 international enterprises will attend an international economic conference on Viet Nam's business environment in Ha Noi early next month. The conference, themed "Viet Nam – A Rising Star in Asia," will explore topics on national infrastructure, property, manufacturing, finance and banking, and tourism.