Nguyen Sy Thang, chairman of the Vietnam Gas Association claims that about 40 percent of gas cylinders available in the market are fake brands, with more poor quality cylinders appearing in the market due to management negligence and lack of awareness by consumers.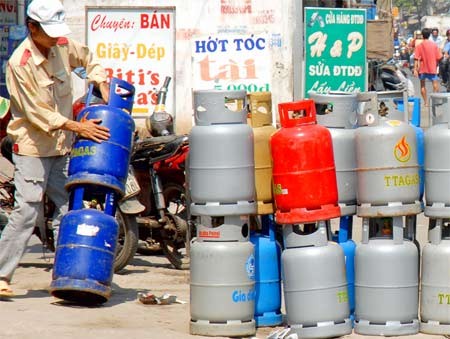 About 40 percent of gas cylinders available in the market are fake brands (Photo: SGGP)
A preliminary study by the Market Management Department under the Ministry of Industry and Trade showed that over 3 million out of 10 million gas cylinders have been appropriated by smaller gas companies.
 
Small companies collect gas cylinders of large companies, replace valves and handles, clean old logos and repaint their own. This then reduces the cost of manufacturing own cylinders.
 
A good quality cylinder costs about VND600, 000, whilst it is only VND300, 000 to refurbish one. Units manufacturing fake cylinders have therefore flourished, regardless of the law. 
 
A 12-kilogram fake gas cylinder is usually 0.5-1 kilogram underweight, which means that consumers are cheated out of VND30, 000 per cylinder. 
 
Recently Dong Phuong Production Company was caught with fake gas cylinders. At the company factory, Police of Hoc Mon District in Ho Chi Minh City found many cylinders of branded gas companies. 
 
Dong Phuong Co. collected nearly 2,000 empty gas cylinders of branded gas companies, who had lent them to gas agents on a security deposit basis, and refurbished them with their own name.
 
Le Thi Anh Man, chairman of the Southern Gas Association, said this method was most unsafe for users. It also caused losses for companies of these cylinders as they had spent over VND400, 000 to produce one 12-kilogram cylinder, while gas agents only deposited VND200, 000 as security.
 
Some industry experts say that consumers pay little attention to gas brand names and just exchange the old cylinder for a new one, rarely noticing the volume of gas or the safety of the cylinder.
 
Mr. Thang said consumers usually go for the cheaper offer.
 
He thinks consumers should become more aware and buy brand names, not go for cheaper options. This will help in preventing the circulation of fake products.
 
Another reason is lax management and light fines on violators who clear the fine if caught and continue regardless. Until now, gas companies have not come up with an effective means to counter this problem.