Petrolimex will reduce retail price of diesel, kerosene, and mazut oil starting April 1.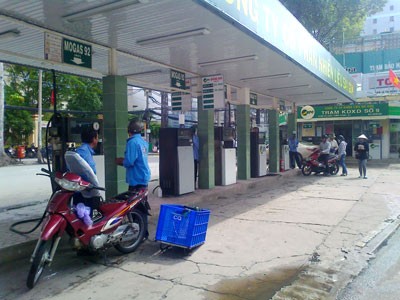 Diesel prices to fall, petrol stays unchanged (Photo: Cat Tuong)
The prices of the respective oil products will decrease by VND240, VND150 and VND130 per liter setting the retail price of those products to VND 22,480 per liter, and mazut will be VND 18,760 per liter. 
The price for petrol will remain the same. World petrol prices have continuously increased over the last 30 days and are at a current high, according to the Ministry of Finance.
This makes the base price higher than the domestic retail price by VND 230 per liter.  Basic prices of diesel, mazut, and kerosene are lower than the domestic retail price.
The Ministry requires petroleum businesses to maintain prices by using the petroleum price-stabilization fund.
They are not allowed to use the fund to stabilize price of oil. Businesses will enjoy more profit from VND 150 to VND300 per liter for petroleum and oil commodities.
Retail prices for gas decreased VND 1,350 per kilogram. Cooking gas prices decreased VND 16,000 per 12-kilogram cylinder. This decrease follows the successive four-month global decrease.