Retail fuel prices decreased by VND1,000 a liter Thursday morning following an official price cut announced by the Ministry of Finance.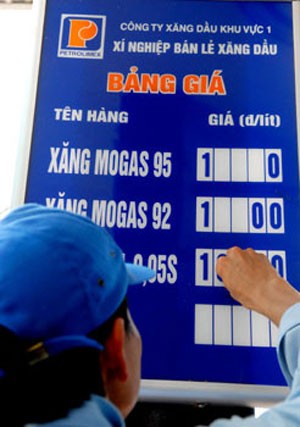 A staff at a filling station changes fuel prices on Thursday morning
The price of A92 petrol dropped to VND18,000/liter, while A95 petrol declined to VND18,500/liter and kerosene to VND19,000/liter as of 10 am today. Prices of other fuels such as diesel and DO remain unchanged.

The ministry also announced that the government will no longer subsidize petrol, kerosene and DO. However, the government will continue to subsidize 70 percent of the increased cost of diesel. The remaining 30 percent of the costs must be borne by fuel enterprises and purchasers.

An import tariff of zero is still applied to fuel, the ministry said.

The decision to slashing petrol and oil prices was made after the world oil price dropped. It now trades at US$116.67 a barrel.

On July 21, the domestic retail price was raised by 30 percent as the result of higher world market prices. The price of A95 petrol was raised from VND14,500 a liter to VND19,000 a liter. After peaking at US$140 a barrel, the world oil price declined to $112 a barrel.

One week ago, local residents in Ho Chi Minh City began hording petrol when they heard a rumor that the price would rise to VND25,000 a liter.

The hording stopped after the Ministry of Industry and Trade made a public announcement that it did not intend to make any further price adjustments at that moment and for some time to come.