Rice export volume in the first quarter this year posted a strong year on year growth but drastically dropped in the first two months of the second quarter, reported the Vietnam Food Association (VFA).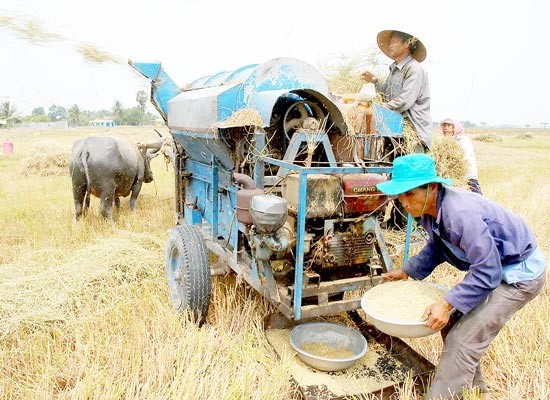 Farmers reap rice in the Mekong Delta (Photo: SGGP)
Rice export volume and value grew 57.6 percent and 51.1 percent over a year back in the first quarter, high compared to annually average level for the same period.
The increase was thanked to contracts signed in 2015, especially Government to Government (G2G) deals with Indonesia and the Philippines and a large number of commercial deals with China.
According to the VFA, the strong growth in the first quarter and drought have affected rice productivity and output in the Mekong Delta and highly increased domestic rice prices.
Therefore, exporters have offered higher prices than those from India, Pakistan and Thailand. Vietnamese rice price was US$10-20 a ton higher than Thai rice. This has caused many businesses hesitate and not sign new export contracts.
Commercial contracts especially from China drastically fell while G2G contracts nearly ran out in April and May, resulting in volume drop to below the annually average level of 600,000.
The strong fall has sent Vietnam to reduce rice export norm in the second quarter from 1.8 million tons to 1.5 million tons.
However with current situation, the second quarter is likely to export about 1.3-1.4 million tons, the lowest for the same period of the last several years. The VFA forecast that the number will approximate only 450,000 tons in June.
Total export volume thus might reach 2.7-2.75 million tons in the first half this year.