Though Vietnam is set to replace Thailand as a leading rice exporter in the world, it needs to adopt new aggressive strategies to compete with India, Pakistan and Burma.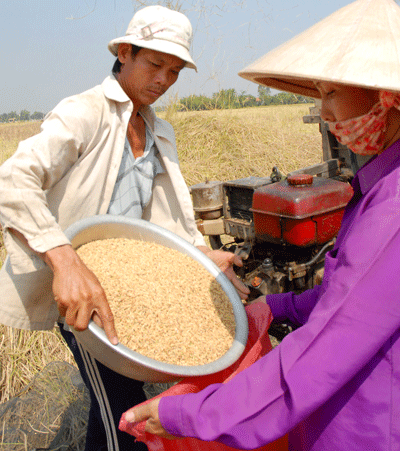 Farmers in the Mekong delta province of Long An harvesting fragrant rice ( Photo: SGGP)
Vietnam will face many challenges and difficulties in 2012 as the volume of rice exported in the first quarter of 2012 is less than during the same period last year, said the Vietnam Food Association (VFA).
Two of the largest markets for Vietnam are Asia, accounting to 67 per cent; and Africa, accounting to 23 per cent. Both these markets were once dominated by India and Pakistan, with Vietnam only marketing 3 per cent fragrant rice to Asia and Africa.
The Burma Rice Association said it has sold 700,000 tonnes of rice last year and targets 1.5 million tonnes for this year. Its main markets are Africa, Indonesia and the Philippines. Myanmar could be the sixth largest rice exporting nation in the world, according to the US Agriculture Department.
According to VFA, Vietnam exported more than 279,200 tonnes of rice in January, 2012, earning US$153 million, a decrease of 42.3 per cent in quantity compared to last year.
Vietnamese exporters complained that importers came to Vietnam to only negotiate prices. The market is sluggish and some importers negotiated a lower price than the ceiling price set by VFA.
Vietnamese exporters have just signed a contract for 1.1 tonnes for the first quarter this year, while it was 1.8 million tonnes in the same period last year.
VFA is focusing on regular contracts with traditional markets like the Philippines and making attempts to enter the Chinese market. Vietnam is also trying to increase around 800,000 tonnes of fragrant rice to compete with Thai rice.
In addition, the country must also pay attention to parboiled rice; and is expected to export around 400,000 tons of parboiled rice in 2012. The average price of parboiled rice is US$50-$60 higher than five per cent broken rice per tonne.
The Southern Food Corporation (Vinafood 2) is constructing three plants to produce parboiled rice in the Mekong delta. It is expected to export around 300,000 tonnes of parboiled rice annually once the plants are operational.
Vinafood 2 has coordinated with the Department of Cultivation under the Ministry of Agriculture and Rural Development (MARD) to set up a special area to provide raw material to the three plants.