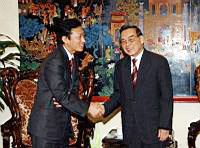 Mr. Ly Sang Joon (L) is welcomedby PM Phan Van Khai in Jan 2006
Golden Bridge, a Republic of Korea financial group, announced on Dec. 15 its establishment of an investment fund specialising in the Vietnamese market.
The 19-million-USD fund, called Blue Ocean, will focus on securities and real estate projects in Viet Nam. It will be managed by the Golden Bridge Asset Management Co., an affiliate of the Golden Bridge Group.
Golden Bridge's President Ly Sang Joon said the initiative to set up the fund stemmed from an investment wave to Viet Nam from the RoK. He continued that Viet Nam is a promising land for investment and is emerging as the second fastest growing economy in Asia.
According to President Ly, the Golden Bridge Group will establish another investment fund next year to expand its fields and forms of investment in Viet Nam.
Source: VNA