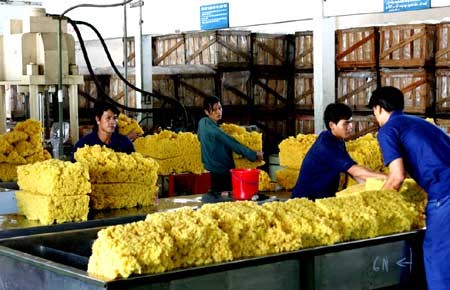 Workers processing raw rubber.
Prices for rubber exports to China through the Mong Cai border gate are increasing again after China's import monitor put importers under strict supervision for one month, according to the Ministry of Trade.
As Chinese restrictions have caused dozens of Vietnamese enterprises to shift their export away from rubber, the loss of rubber export volume to China has raised the export price.
It is anticipated that the price will increase to US$2,400 per ton in the early of Sep. In addition, trade in synthetic rubber is rapidly surging as rubber factories at Mong Cai border gate's areas boost their capacity, providing about 1,000 ton per day at US$2,406 per ton.
While latex's export price increased by US$38 per ton last week, the export amount of latex dropped by 30 percent due to weak supply.