The Rubber Factory in the central province of Danang, in Lien Chieu Industrial Zone has commenced manufacturing of radial tires since May this year, to meet both domestic and export demand.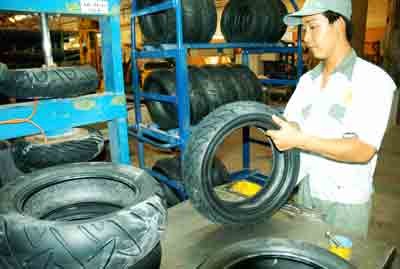 Worker in a tire factory (Photo: SGGP)
The new factory, built at an investment of VND3,000 billion (US$146 million), is expected to roll out 600,000 tires per annum.
At present, the two most advanced tire factories in Vietnam are the Rubber Factory in Danang (DRC) and the Southern Rubber Company (Casumina).
According to Casumina, the industry in Vietnam has an edge on the market as Japan, Europe and USA are losing their market share due to a continuous increase in the cost of raw materials.
This is a great opportunity for Asian countries, and Vietnam in particular, as it is the fifth highest producer of raw material in the world.

The country can gain an advantageous foothold in producing and exporting car tires, truck tires, medical gloves and high-quality mattresses.
Recently, the government approved a project to expand the area for rubber plantation to 800,000 hectares by 2015 with more expansion expected by 2020.

The industry will acquire another 60,000 hectares in the North West and the Central Coastal regions of the country with a view to increase rubber exports by $5-10 billion in the future.