Export prices of Vietnamese rubber will continue to be on the rise thanks to rising demand from importers, reported the Trade Department of Viet Nam on April 20.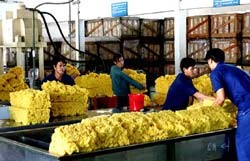 Processing rubber for export.
The export price of rubber is forecast at US$1,750-2,100 per ton by late April.
 
Vietnamese companies currently export an average of 300-400 tons rubber per day. However, they can not fill all the back orders. 
 
Besides the main export market of China, the demand for Vietnamese rubber is increasing sharply in the US, France, Japan and Korea. Brazil and Argentina also have demand for Vietnamese rubber.