Soon after Vietnam Commercial Joint Stock Export Import Bank (Eximbank) asked Saigon Thuong Tin Commercial Joint Stock Bank (Sacombank) to re-elect its board of directors, stocks of both banks   plummeted, while other banks' stocks went up.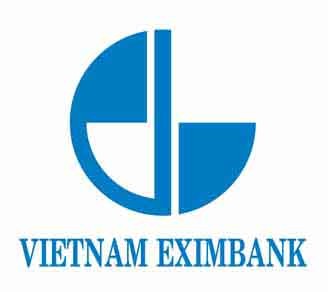 Logo of Eximbank
While the matter has not yet been settled and must be discussed further, on February 21 trading sessions, share prices of Sacombank fell 3 points and Eximbank sank 1 point, while Vietinbank's CTG and Vietcombank's VCB rose.
As the biggest shareholder of Sacombank, Eximbank has sent a letter to Sacombank calling for a re-election of its board of directors.

This controversial issue caused much public concern recently.  As Eximbank holds a 9.73 per cent stake in Sacombank, it is authorised to represent the latter's group of major shareholders and call for an out of session shareholders meeting.
The reason for demand for restructuring by Eximbank was because members of the board of directors of Sacombank now hold a very low proportion of its stake, after the bank experienced many changes in shareholder structuring, such as the divestment of Dragon Capital and ANZ Bank, and the arrival of new shareholders, including Eximbank.
Secondly, Sacombank has closed many high value deals, such as buying 100 million treasury stocks, and divesting from Saigon Thuong Tin Securities Co, which Eximbank said could affect the rights of shareholders.
Moreover, Sacombank's operational effectiveness lagged behind other banks of similar scale last year. Therefore, Eximbank also demanded that Sacombank increase its profit target for this year by 15 per cent, to VND4 trillion.
Sacombank's shareholders have chosen the board of directors and inspectors for the new term, which lasts until 2015. Accordingly it is not feasible for the new board to be dismissed.
 Eximbank could successfully acquire power from Sacombank, since the stakes held by the shareholders in Sacombank's board of directors is much lower than the 51 per cent of the Eximbank alliance.
According to Sacombank's operation regulations, only shareholders, or groups of shareholders, that hold more than 10 per cent stake for at least six consecutive months are eligible to call for a shareholders meeting, or recommend individuals for the bank's boards of directors and inspectors.