Sai Gon Union of Trading Co-operatives (Saigon Co-op Mart) received the 2014 'Best of The Best' Award for being among the top 10 retailers in the Asia-Pacific region and the gold award for the top retailer in Vietnam by the Singapore-based Retail Asia magazine and Euromonitor International in Singapore on November 10.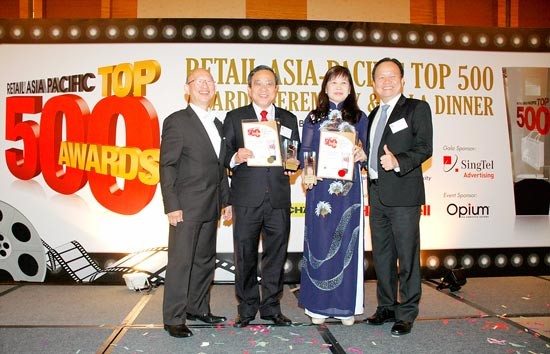 Chairman and Vice General Director of Saigon Co.op, Mr. Nguyen Ngoc Hoa and Ms. Nguyen Thi Thu Thuy (c) ; and Steven HL Goh (L), excutive chairman of Retail Asia Publishing attend the award ceremony.
Saigon Co.op is the first Vietnamese retailer that won the 'Best of The Best' Award.
This is the eleventh appearance for Saigon Co-op on the annual Top 500 list and receiving the gold award for the top retailer in the country.
The Co.opmart supermarket chain, Co.op food store chain, Co.opXtra, Sense City commercial center, TV shopping channel HTV Co.op are belonged to Saigon Co.op which established in 1996,
The cooperative targets to attract 250,000 members, diversifies 300 retail stores, and is expected to reach total revenue of VND44 trillion as well as create 1,200 new jobs this year.