Saigon Co.op, the country's largest supermarket chain, is promoting sale of lychees in its retailing outlets across the country to help farmers and respond to the campaign Vietnamese people consume Vietnamese commodities.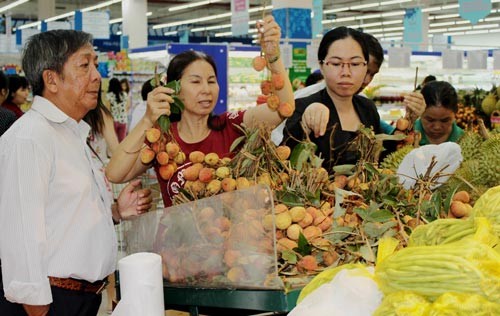 (Photo:SGGP)
Current lychee farmers are facing difficulties in consuming the fruit due to frozen export market to China.
As of June, 2014, Saigon Co.op supermarket chains have promoting Vietnamese fruit consumption through fruit fests, part of green consumption ( the practice of using environmentally friendly products that do not cause risk for human health and do not threaten the function of diversity to natural ecosystems), in which lychee is one key fruit.
Co.opmart retailling outlets in Ho Chi Minh City and provinces in the south have sold over 10 tons of lychees a day. Consumption of the fruit is expected to increase more and more. Co.opmart supermarkets are trying to promote sale of the fruit by displaying the fruit in eye-catching position and offering special discount.
Saigon Co.op directly buy the fruit from farmers to design a cheap price to its customers.
From June, 2014, suppermarkets have sold nearly 200 tons of lychees and Saigon Co.op said that this number is expected to be reached to 500 tons.