Canadian company ITL yesterday inaugurated the US$30-million Saigon Factory Outlet Mall housing more than 200 local and foreign retailers.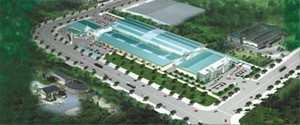 The Saigon Factory Outlet Mall
The first such shopping center in Viet Nam takes up three hectares of space between National Highway 1A and the Hanoi Highway in Di An District, Binh Duong province to the east of Ho Chi Minh City.

It stands next to Viet Nam's largest university and close to Suoi Tien Park, Lo O Spring, Buu Long and other tourist spots.

There are sections for food, home décor, electronics and fashion as well as restaurants, banks, a post office and the 1,500-seat Lion Theatre.

The grounds are landscaped and manicured, the walks are paved, there are outdoor stages for live shows, and parking is plentiful.

Its owners describe the shopping center as being similar to a North American mall and a place that offers a "daytime shopping experience which also includes facilities for family entertainment & tourist attractions".

Buses of 16 and 50 seats shuttle back and forth between Saigon Factory Outlet Mall and downtown Ho Chi Minh City from 9 a.m. to 9 p.m. daily.