Saigontourist is striving to boost its sales to US$1 billion by 2015, said Nguyen Huu Tho, the general director of the company.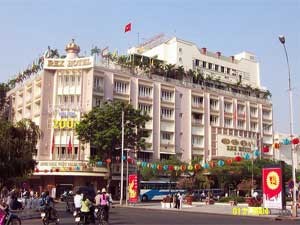 Saigontourist will upgrade its hotels to boost sales

To meet its target, the company has mapped out its long-term development strategies, in which tourist products will be diversified and combined, a lot of new deluxe hotels will be built, and the existing high-class hotels, such as Grand, Rex, Majestic and Kim Do, will be upgraded.

Tho said his company has been developing many projects to set up hotels and recreation centers across the country, particularly in HCM City. The company will also develop some 5-star tourism projects in coastal areas such as Cam Ranh, Phu Quoc and Can Gio.

The company has adopted new management standards to professionalize its operations, to improve its service quality, and to promote its brand and image to customers, said Tho.
With great efforts being made, Saigontourist expects to gain a total sales of US$1 billion and a profit of US$300 million in 2015, Tho said. 

Currently, Saigontourist is the owner of more than 100 subsidiaries, hotels, tourist centers, restaurants and recreation sites nationwide.