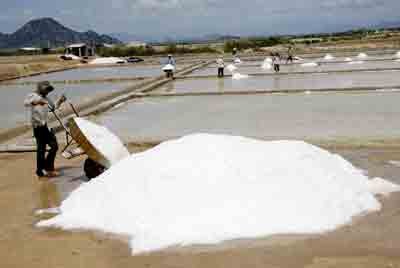 Salt workers labor in a salt field (Photo: U. Phuong)
Price of salt has fallen considerably in the Mekong Delta Province of Bac Lieu, causing much despair for salt workers.
Phan Minh Quang, deputy head of the Department of Agriculture and Rural Development in Bac Lieu Province, said that salt prices had soared earlier when some companies had purchased large amounts to meet demands from other provinces.
Once their quota was met they stopped buying, which led to the drop in the price of salt. Salt workers are maintaining a stock of about 4,000 tons of salt.
The Dong Hai factory in the province is currently buying black salt at about VND 350 to 450 per kilogram and white salt from VND 600 to 800 per kilogram.