SAP (NYSE: SAP) – a market leader in enterprise application software – launched Wednesday in Ho Chi Minh City a subscription-based hosting option designed for small and medium sized enterprises in Vietnam, bringing to SMEs its solutions with lower costs.
More than 150 representatives from SMEs took part in the Germany-based corporation's launch of SAP Business All-in-One, or shortly SAP BaiO.
"SAP BaiO enables customers to obtain a world-class business application with easily customizable industry specific business processes and global best practices," said Mr. Srinivas Adimulam, country manager of SAP Vietnam.
"We understand that in the current economic situation, many SMEs struggle to get much needed investment capital to important and urgent business projects. It means that the budget for information technology is more limited. We have expanded our SAP product offerings by adding subscription-based hosting of SAP to our portfolio to empower their business activities with a lower up-front cost."
Tom Kindermans, SAP senior vice president - Ecosystem & Channels, also attended the launch. He said that the money cost is high nowadays, so his corporation must provide cost-effective solutions.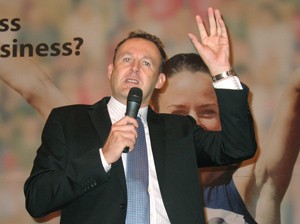 Tom Kindermans, SAP senior vice president, gestures as he speaks about how his company can help enterprises run better at the SAP product launch in Ho Chi Minh City June 15, 2011 (Photo: Tuong Thuy)
In his speech, Kindermans mentioned cost as one of 10 reasons why customers choose SAP to help transform their business. Enterprise mobility is another reason, he said, adding, "Our market-leading mobile solutions will unwire your enterprise."
The other reasons include support from SAP, its non-stop innovation, solutions for companies of all sizes, and ability to maximize business value.
According to SAP Vietnam's Adimulam, with SAP BaiO, SMEs can gain visibility and control while building a stable software foundation to support their evolving business need. Instead of adopting a small business accounting package, the B1 starter program for the SAP Business One application is a good starter companion.

He added that if using SAP solutions, SMEs just pay monthly or quarterly on a two, three or four-year basis, instead of capital outlay required for acquiring software licenses or IT hardware, deploying and managing by themselves.
Founded in 1972, SAP (which stands for "Systems, Applications, and Products in Data Processing") today has sales and development locations in more than 75 countries worldwide, according to Mr. Kindermans. He said SAP has more than 170,000 customers, including those from SAP's acquisition of Sybase.