Many pangasius units and exporters in the Mekong Delta Provinces are concerned over the severe shortage of raw material for pangasius processing and are also facing difficulties due to lack of capital.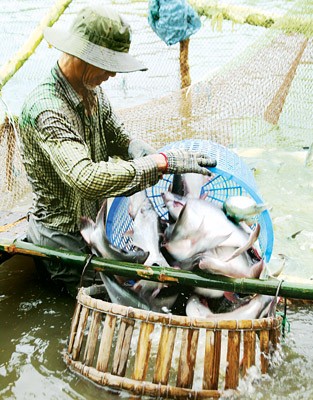 A pangasius farmer in the Mekong Delta (Photo:SGGP)
Truong Dinh Hoe, general secretary of the Vietnam Association of Seafood Exporters and Producers, brought this up at a meeting in Ho Chi Minh City on April 17.
He added that unprocessed export quality pangasius was now priced at VND23,000 per kilogram, a drop from VND25,000-26,000 per kilogram lately.
Explaining the price drop, local media quoted a VASEP source as saying that it is because of fish farmers rushing to sell their produce after fears in the wake of the recent Bianfishco incident, which owes huge amounts to farmers.
However, seafood firms themselves may have been responsible for the price fall, taking advantage of the Bianfishco case to force farmers to sell fish at reduced rates.
Farmers are worried about payment risks, so they rushed to sell their produce, which caused the price fall. Hoe ascertained that pangasius supply is not so huge as to pull down prices.
He said that in the first quarter of 2012, pangasius export volumes touched more than 161,000 tonnes to exceed US$421 million, an increase of 5.3 per cent in volume over the same period last year.
Pangasius exports to markets such as China, America, Central America and South America keep increasing, but pangasius exports to the EU countries have been slowing down due to the sovereign debt crisis, said Hoe.
Duong Ngoc Minh, deputy chairman of VASEP, said that 95 per cent of seafood firms are borrowing money to buy raw material and cover overheads and production costs. If banks continue to tighten credit loans, as they are at present, some pangasius companies may just go bankrupt.
This year, the export target for pangasius fish alone was $2 billion. However, to achieve this, seafood firms need 1.3 million tonnes of raw material for processing. Also, lack of capital has caused a drop in volume of pangasius fish.
Firms are finding it hard to access bank loans, because of already outstanding loans over the years. Banks are thus wary to issue new loans, Hoe explained.