Seafood exports this year are expected to increase by about one percent over last year to touch US$6.12 billion, said a report from the Ministry of Agriculture and Rural Development.
This figure will fall short of the $6.5 billion target set for the year, said the report, citing global economic difficulties, rising input costs, and capital shortage.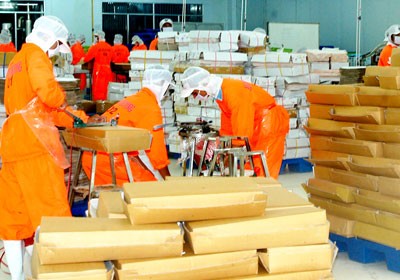 Packaging tra fish for export in Ca Mau province (Photo: SGGP)
According to statistics of Vietnam Association of Seafood Exporters and Producers (VASEP), shrimp exports this year faced major challenges since Japan, the US and South Korea increased testing for ethoxyquin levels in shrimp imported from Vietnam.
Therefore, seafood exports to the EU in the last quarter decreased sharply, dropping by 12 percent from the same period a year ago, while shipments to the US and Japan also declined from 1.5 to 2 percent, informed VASEP.
An official from the General Department of Seafood said that the department would enhance monitoring of seafood breeding and feeding practices next year to further enhance the quality of the country's seafood products.
Many seafood producers have upgraded their aquatic areas to meet the higher quality standards required, he noted.
Many seafood breeders this year told reporters that they took steps to comply with the higher standards of import countries.