With catches falling, seafood processing companies in northern and central Viet Nam are facing a severe shortage of raw materials.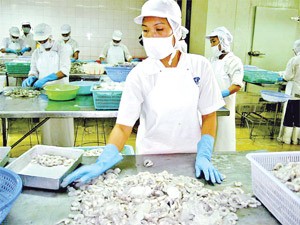 Seafood processors in nothern and central Viet Nam face a severe shortage of raw materials (Photo: SGGP)
Most of the fish and other creatures caught at sea are small and are used to feed livestock. The supply of large creatures is only enough for restaurants and hotels.
 
Nghe An Aquatic Product Import-Export Joint Stock Company is located near Cua Hoi fish port in the central region, normally a good spot for obtaining seafood. But the company has been unable to source supplies.
 
Its director, Ho Thi Hang, said the catch of anchovies and sardines has improved this month but the fishes, at 25 grams and below, are not large and so her company cannot export them.
 
Aquaculture too has been faring badly. In the July-August season, farmers in Thai Binh, Nghe An, Quang Ninh, Quang Binh, and Nam Dinh provinces have only been able to supply the company 10 tons of tiger shrimp a day while it has a capacity of 20 tons.
 
Besides, the quality of the shrimp is 70 percent below the required level.
 
Processors in Quang Binh, Quang Tri, and Ha Tinh provinces face a chronic supply shortage.
 
The Ministry of Agriculture and Rural Development's Department for Exploitation and Protection of Aquatic Resources said since fish stocks near the shore are exhausted, fishermen sell their catches to the Chinese for high prices.
 
Northern companies too face the same situation. Quang Ninh Aquatic Product Import-Export JS Company has been operating at 30 percent capacity this year. It partially laid off workers in the first quarter because it could not source supplies for processing.
 
The company resumed operations after farmers harvested their whiteleg shrimp crop in April.
 
But it has been unable to find enough supply despite going further afield to provinces like Thai Binh, Hai Phong, and Nam Dinh.
 
In the last two months it has been able to obtain just 100 tons of shrimp a day compared to 120-150 tons in the past.
 
The poor harvest is attributed to the unusually cold weather earlier this year.
 
The squid crop has also failed. Farmers have been able to supply only a third of last year's volume.
 
The Quang Ninh-based company said it has been forced to reject many orders from abroad as a result of all this.
 
The Vietnam Association of Seafood Exporters and Processors (VASEP) said it is essential to import raw materials now to enable exports of processed items and keep workers employed.
 
These include fishes (tuna, sailfish, salmon, anchovy, amberjack, and sardine), shrimp, squid, and octopus from Northern Europe, North and South America, and the South Pacific islands.
 
But it can only be a temporary solution. In the long term deep-sea fishing and farming have to be developed to ensure the quality and quantity of raw materials are stable.