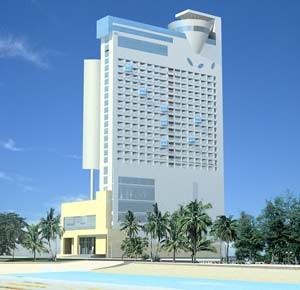 An artist's impression of the Sheraton Nha Trang Hotel and Spa
The Sheraton Nha Trang Hotel and Spa is scheduled to open this July in the beach city of Nha Trang, according to its general manager Scott Hodgetts.
"So much of the spotlight in recent years has focused on what's happening in Da Nang, and what's been going on in Mui Ne," said Hodgetts. "Nha Trang, with its rightful claim as the most beautiful bay in Vietnam, its proximity to Saigon and its depth of cultural assets, is on the verge of a major comeback."
The five-star property is located on the Nha Trang Bay with 282 hotel rooms and 30 levels. Its eight categories of accommodation range from deluxe rooms to executive suites and a single presidential suite.
For business and leisure travelers alike, the hotel's full-service spa offers nine treatment rooms, as well as separate locker rooms for men and women, each with steam, sauna and whirlpool.
Australian Hodgetts and Dietmar Kielnhofer, general manager of the Sheraton Saigon Hotel & Towers joined a short tour around Ho Chi Minh City's downtown area on Feb. 16 in the launch of a promotion called "Starwood To You at Sheraton Saigon".
Hodgetts said, "With the global economy in the midst of unprecedented turmoil, there's very little predictability to the coming year. But we've found reason to be sanguine in Nha Trang.
"Within a country that still enjoys a reputation as a 'new' destination, Nha Trang is one of the next best discoveries for travelers," he added.
Nha Trang is 450 kilometers north of Ho Chi Minh City and it takes 45 minutes to fly.
The Sheraton hotels across the world are owned by Starwood Hotels & Resorts Worldwide, Inc.