One northern ship-building company is to build Viet Nam's largest automobile-transport to date, while a southern ship-builder has been contracted to construct a dozen large-tonnage container ships.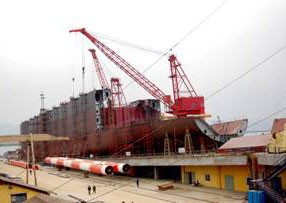 A keel of a cargo ship being built by Ha Long Shipbuidling Co.

The Ha Long Shipbuilding Company recently signed a USD50-million contract under which it will build an automobile-transport ship for Raycar Carriers Limited of Israel.
It is the largest automobile-transport ship in Vietnam, 185.6 meters in length, 32.36 meters in width and capable of transporting 4,900 automobiles of all kinds. The power of the ship's main engine is 13,560Kw, allowing it to cruise at 20.5 sea miles per hour.
The total gross area of the ship is 41,000 square meters spread over 13 decks. It will be equipped with modern maritime equipment and technologies meeting standards set by the latest international maritime conventions, thus allowing it to enter any sea port in the world.
In the South, the Vinashin Soai Rap Company of the Vietnam Ship Technology Group organized a groundbreaking ceremony yesterday for two factories worth VND862 billion (US$53,747,350) in Dong Nai province's Nhon Trach Industrial Park. One will produce various ship parts and equipment while the other will produce Yanmar marine engines.
Vinashin Soai Rap also organized a separate ceremony to mark the day the company started to build its first one-ton keel for a 15,000-ton cargo ship.
Vinashin Soai Rap recently signed a contract to build another 15,000-ton cargo ship and a series of ten 36,000-ton container ships, the largest order of its kind for a southern ship-builder.
The two factories are expected to create jobs for more than 600 engineers and skilled workers once in operation.