The number of customers flocking to stores nationwide to buy fresh flowers, cuddly toys, jewelry and chocolates as gifts for their Valentines increased sharply yesterday.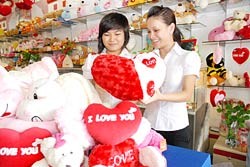 Young people in HCM City choose gifts for the Valentine Day
At the flower store Fresh Flower World on Tran Quang Dieu Street, District 3, the number of customers buying or ordering flowers via the store's website is reported to have increased threefold compared with the previous year.

According to the store's general director, Nguyen Thi Thuy Vu, many men were ready to spend millions of dong on special baskets of fresh flowers as gifts to their wives or lovers. She pointed out that by 5pm yesterday, the number of orders worth over VND1 million ($57) made up over 30 percent of their total turnover.

The price of fresh flowers, especially roses skyrocketed. At many flower shops, large Velvet roses were sold for VND30,000 each. A rose made of dyed cabbagehead leaves was even sold for VND100,000 ($6).

At the nationwide supermarkets of Big C, Co.op Mart and Vinatex, customers also bought chocolates specially designed for Valentine' Day. Some smellies, like shampoos and shower cream, costing between VND40,000 and 50,000, sold like hot cakes. Customers were also buying cuddly toys with words like 'kiss' or 'I love you' on them.

Duong Thi Quynh Trang, communications director for Big C, accredited the sharp increase of shoppers at their supermarkets, compared with the same period last year, was due to the supermarket's sales promotion, which offered 20 percent off on confectionary and cuddly toys.

Between 5pm and 10m, the chain stores of Phu Nhuan Jewelry in Ho Chi Minh City were crowded with customers.

Huynh Van Tan, communications director, revealed that the company sold more than 10,000 products during the day. Most were silver rings and necklaces, ranging from VND150,000 and 200,000.

In Hanoi, the price of fresh flowers also witnessed a hike yesterday afternoon. A bouquet of roses sold for between VND100,000 and 150,000 at small flower shops. At florists, the price for a bouquet of roses ranged from VND200,000 to 1 million.

At a store selling French cakes on Phan Dinh Phung Street, three kinds of cakes costing between VND40,000, VND130,000 and VND150,000 were on display, but the most expensive and delicious cakes sold out quickly. Many late shoppers could not hide their disappointment, as they had no choice but to buy the lower priced cakes, and of course lower quality.

In Hue, capital city of Thua Thien, during the afternoon, many makeshift stands selling mainly Da Lat roses began to spring up in front of the gates at the universities of Science, Education and Medicine. Individual roses sold for VND5,000 to 7,000.

Many customers also visited souvenir shops and bookstores on Hung Vuong and Tran Hung Dao Streets to pick up gifts for their partners.

Many young people were said to be going crazy, buying chocolate bars costing between VND5,000 and 10,000 while others chose cuddly bears or postcards.