Shrimp export processing plants have expressed concern at the shortage of raw material, as the 'dead shrimp' scenario continues to worsen in the Mekong Delta region.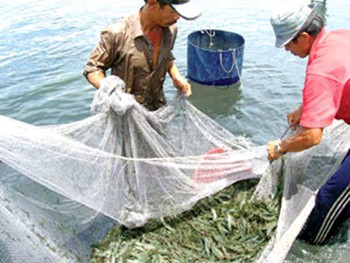 Dead shrimps are causing concern for processing plants in the Mekong Delta
According to the agriculture industry and seafood companies in the region, the material scarcity will reach its peak within the next one to two months. At present, plants in Ca Mau Province are only operating at 50-60 percent of their capacity owing to shortage of material.
Since the beginning of the year, the 'dead shrimp' condition has ravaged about 53,000 hectares of shrimp farms in the delta.
Soc Trang is the worst hit province, with 20,000 hectares of dead shrimps, causing a total damage of VND1 trillion (US$47 million),  followed by Kien Giang Province with 9,000 hectares and Tra Vinh Province with 6,500 hectares.
Tiger shrimps now fetch VND210, 000-240,000 a kilogram in the local market.