A fall in tea export value is putting pressure on the tea industry to enhance product quality to raise the value and price of tea products.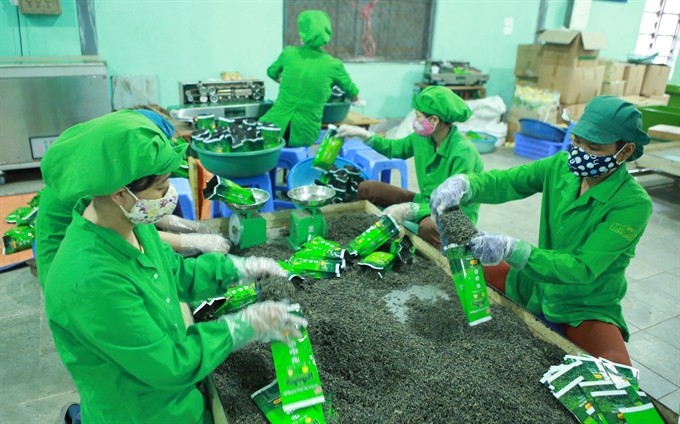 Tea processing at Tân Cương Hoàng Bình Group in the northern Thái Nguyên Province. Although tea exports increased nearly 5 per cent in volume to touch 69,000 tonnes, its export value dropped over 2 per cent in the first seven months of the year, compared with the same period last year.-- VNA/VNS Photo Hoàng Hùng
The Việt Nam Industry and Trade Information Centre (VITIC) reported that Việt Nam is the fifth largest tea exporter in the world but the country's tea export value is still modest since the price of Vietnamese tea is equivalent to only 60 or 70 per cent of world tea prices.
In particular, in the first seven months of this year, the Vietnamese tea price dropped 6.6 per cent to US$1,160 per tonne.
Statistics also showed that although tea exports increased nearly 5 per cent in volume to touch 69,000 tonnes, its export value dropped over 2 per cent in the first seven months of the year, compared with the same period last year.
For instance, in the last seven months, the Vietnamese tea industry's exports to Pakistan, which is the Việt Nam's biggest tea importer with a 33.7 per cent market export share, declined 11.1 per cent in value because the price was down 9.8 per cent over the same period last year.
Experts from VITIC attributed the drop in tea export prices to low product quality, which made Vietnamese tea prices down.
They said that quality was currently the greatest problem that the tea industry encountered, which could lead to a loss of export markets to competitors.
There are many factors affecting Vietnamese tea quality, including a lack of management of pesticide use, outdated farming techniques and lack of co-ordination between plantations and processing and distribution.
Another reason is that many tea processors did not have their own tea plantations so they have to collect tea materials from different sources, some of which do not have clear origins, and through many intermediaries. This has caused the quality of tea products to be inconsistent, and production costs to be high.
A representative from the Việt Nam Tea Association, who declined to be named, said that there should be an organisation to monitor the use of pesticides and fertilisers in tea cultivation to ensure quality.
To improve the situation, Minister of Agriculture and Rural Development Cao Đức Phát once said that tea was among the most important agricultural exports of Việt Nam, adding that attention must be paid to developing tea cultivation, especially improving tea quality and ensuring food hygiene standards.
Meanwhile, experts from the Ministry of Industry and Trade said that the Government and enterprises should attach importance to the application of scientific and technological achievements to production and processing of tea products.
They also stressed the need for the development of a Vietnamese tea brand together with the organisation of trade promotion activities was also indispensable for boosting tea exports.
History
Việt Nam has for a long time been known as one of the cradles of the global tea industry.
When the French invaded Việt Nam, they paid special attention to tea plants with much research and many investigations into the quality of Vietnamese tea. During the French era in Việt Nam, they built cultivation research institutes in Phú Hộ (Phú Thọ), Bảo Lộc (Lâm Đồng) and Pleiku (Gia Lai) and established a nursery containing 27 tea varieties and a tea production factory on a Phú Hộ farm.
By August 1945, there were 13,585 ha of tea plants around the country, producing 6,000 tonnes of dried tea, black tea, green tea and scented tea.
Then, it was impossible for tea plants to develop until 1955, when the North was entirely liberated. At that time, green tea was the main product for domestic demand and export to China.
The year 1956 marked the appearance of two tea factories in northern province of Phú Thọ, each with a capacity of 25-35 tonnes of fresh buds per day and an electrical factory equipped with the most modern technology of the time.
Tea factories were developed with the help of Russian technology. Dozens of experts were appointed to tea production units to study and many Russian scientists also came to Việt Nam. In 1957, 700 tonnes of black tea and 500 tonnes of green tea were exported to Russia.
From 1955 to 1975, due to the effects of war, tea production did not undergo much improvement. However, in the North, the tea industry still expanded to 65,000 ha yielding 35,000 tonnes of dried tea, of which 18,000 tonnes were exported.
By August 2015, the planted area of the whole country had reached 140,000 ha and the dried tea output was 180,000 or 190,000 tonnes, of which 75 or 80 per cent was exported. Vietnamese tea has found its way to more than 110 countries and territories.
The main export earners include black tea, green tea, lotus fragrant tea, oolong tea and jasmine tea, which are mainly exported to markets of Taiwan, China, the United States, Pakistan, Indonesia and Malaysia.