After the first day of the 16th Viet Nam International Trade Fair-Viet Nam Expo 2006, which was officially opened on April 5, some local enterprises have successfully signed exporting contracts worth totally US$37 million to foreign markets.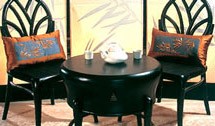 Interior furniture of the Viet Nam's Upexim Company will be exported to Taiwan.
The Upexim Forestry Products & Handicrafts Production & Export-Import Joint Stock Company said it has signed with the Taiwan's Green Pine International Company a US$15 million contract to export its interior furniture.
Also, the Ha Noi Pharmacy Corporation (Hafaco Viet Nam) has signed a US$ 2.3 million contract to export vaccines to Cuba, with its partner being the Herber Biotec Exporting Company.
In the first day of the five-day fair, a contract was signed between the Prime Group Viet Nam and the South Korea's CN International Corporation, in which the Vietnamese partner will export its ceramic tiles worth US$16.7 million to the South Korean market.
According to the organizers, the total value of exporting contracts signed during the fair is expected to reach US$300 million.
Related Articles:
Viet Nam International Trade Fair 2006 to Open
450 Enterprises Join Viet Nam Expo 2006