Two-way trade between Vietnam and Singapore in the first two months of 2014 enjoyed a year-on-year increase of 20 percent to reach 2.79 billion SGD (2.2 billion USD).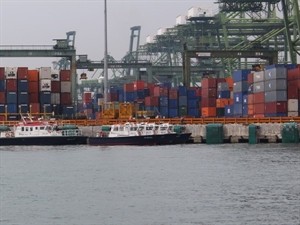 (Source: VNA)
According to the International Enterprise Singapore, during January-February, Singapore spent 476 million SGD (377 million USD) on importing products from Vietnam, down 0.2 percent year-on-year.
Vietnam's main exports to Singapore include mobile phones and spare parts, boilers, coffee and tea.
Meanwhile, Singapore earned 2.3 billion SGD (1.8 billion USD) from exports to Vietnam, up 25 percent from the same period last year.
The country's key exports are petrol and oil products and assorted phones.
Singapore Customs' statistics show that the two countries' trade turnover hit 14 billion USD in 2013, up 36 percent from the previous year. Of the total figure, Vietnam's exports make up more than 3 billion USD.