Gross domestic product (GDP) growth rate was estimated at 6.11 percent in the first half of 2015, compared to the 5.18 percent in the same period last year, statistics revealed at a meeting on June 24.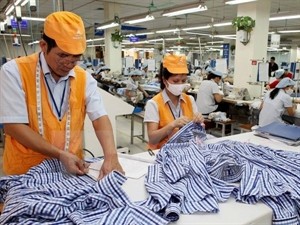 Illustration photo. Source: VNA
GDP in the agro-forestry-fishery sector rose 2.16 percent, industry and construction upped 8.36 percent and services climbed 6.18 percent, said Bui Ha - Director of the Department for National Economic Issues under the Ministry of Planning and Investment.
In the six-month period through June, the industrial production index hiked up 9.6 percent from a year before, indicating a recovery trend in the economy.
Production value of the agro-forestry-fishery industries increased by only 2.41 percent from the same period of 2014, a three-year low, to reach 489 trillion VND (22.74 billion USD), according to Head of the Ministry of Industry and Trade's Planning Department Nguyen Thuy Hien.
Nguyen Duc Hung from the Ministry of Agriculture and Rural Development blamed the low growth partly on an array of difficulties the agricultural sector has faced since the year's outset, mainly the acute drought in the central and Central Highlands regions.
The Ministry of Agriculture and Rural Development called for more investment in agriculture to address the difficulties.
At the meeting, data also showed export was a highlight in the first six months with 77.7 billion USD worth of goods shipped abroad, rising by 9.3 percent from the same period of 2014.-VNA