Over 3,500 low cost automobiles were imported to Vietnam from India in May, a 20 time increase compared to February when the number touched 180, reported the Ministry of Industry and Trade.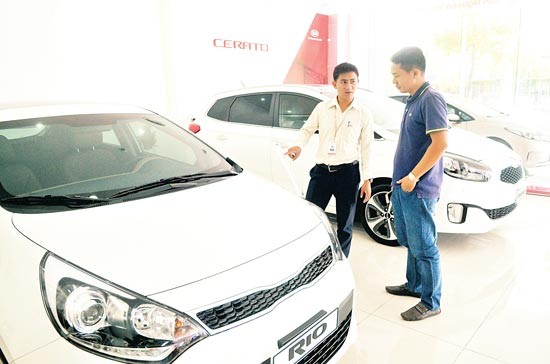 Car buyers at a shop in Nguyen Van Troi street, HCMC (Photo: SGGP)
With the total import turnover of US$18.7 million in May, each Indian automobile has been priced VND112.2 million (US$5,000).
Most of the imported items were four-seater cars and minivans of Huyndai i10 or other joint-venture brand names between India and South Korea and Japan.
India was the largest auto exporter to Vietnam in May.
The country imported 41,238 automobiles of different types worth US$968 million for the first five months this year. The largest market was Thailand, followed by South Korea, India, China and Japan.
From July 1, special consumption tax will reduce from 45 percent to 40 percent on 9 seater and smaller vehicles with the cylinder capacity of 1.5 liter and below.
The tax rate will continue sliding to 35 percent from January 1 next year. This is one of reasons for the import skyrocket of auto types with low-cylinder capacity in recent months.