Domestic coffee prices are soaring these days causing a scramble amongst domestic and foreign companies.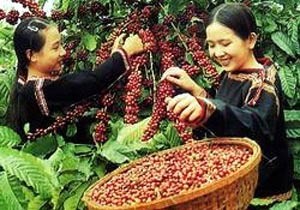 harvesting coffee in the Central Highlands
According to the Vietnam Coffee and Cocoa Association (Vicofa), the price of coffee has hit an all-time high of VND40,500-41,000 per kilogram over the last four years in the Central Highlands.
 
This price hike has caused concern amongst local traders, as foreign companies are pushing to purchase directly from farmers.
 
Vicofa claims that foreign companies have the buying power to stock large quantities whilst domestic companies are more cash strapped.
 
Vicofa also feels that foreign companies are violating the country's laws by buying coffee directly from farmers.
 
The Club of Coffee Exporters has proposed that relevant agencies must intervene in this situation and has also asked the Government for financial support to assist the coffee sector as a whole and in exports in particular.