HA NOI (VNS) — The completion of legal institutions and mechanisms is one of the critical tasks to speed the equitisation of State-owed enterprises (SOEs).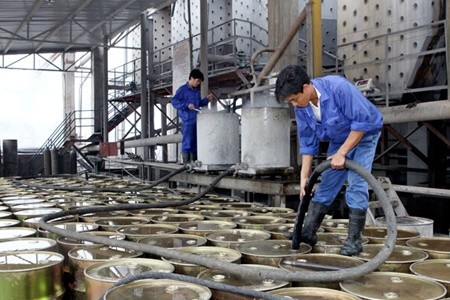 Workers at Duc Giang Chemicals Joint Stock Company pump chemicals into tanks. The equitisation of State-owned enterprises has seen significant improvements. — VNA/VNS Photo Hoang Hung
According to Pham Viet Muon, deputy head of the Steering Committee for Business Renovation and Development, Government Decree No 99/2012/ND-CP clarified the rights, responsibilities and obligations of the Government, ministries, agencies, local governments and member councils of State-owned economic groups and corporations.
Under the decree, ministries are responsible for exercising the obligations of the State as the owner of SOEs, particularly State-owned groups and corporations, which includes inspecting and evaluating the efficiency of business operations.
Reports show that the implementation of State ownership management has been improved following the issuance of the decree, towards ending State agencies' administrative interference in SOEs' operations.
The management method of State capital in SOEs is also gradually shifting from administrative to business styles.
Between 2011 and 2013, the country equitised 180 SOEs, reducing the number of wholly State-owned businesses to 949. Of these, 19 were State-owned corporations and 21 had State capital of over VND100 billion (US$4.7 million).
Among those that were equitised were the Bank for Foreign Trade of Viet Nam (Vietcombank), the Bank for Investment and Development of Viet Nam (BIDV), Petrolimex, Viet Nam Steel Corporation and Viglacera.
According to the steering committee, after equitisation the businesses have enjoyed considerable growth and performed their tasks more effectively. Also, the appearance of joint stock companies has increased the economy's competitiveness and accelerated the restructuring of the stock market.
Further, the equitised corporations have reorganised business and production activities and reshuffled member companies, while merging those that overlap.
Implementing financial restructuring, a number of businesses have increased their charter capital and withdrawn capital from non-core areas.
Despite numerous difficulties in 2013, 18 State-owned groups and corporations recorded total revenues of VND1.18 trillion ($56.38 billion) and contributed VND191 trillion ($9.1 billion) to the State budget.
Under the 2011-15 SOEs restructuring plan, the country will have to complete the equitisation of 531 SOEs by 2015.
To have the remaining 432 businesses equitised between now and 2015, the Ministry of Planning and Investment stressed the need for a determination and unity from central to local levels to ensure the progress of the restructuring of SOEs.