Squid and octopus exports have reached a record high since early this year, the Viet Nam Association of Seafood Exporters and Producers (VASEP) reported yesterday.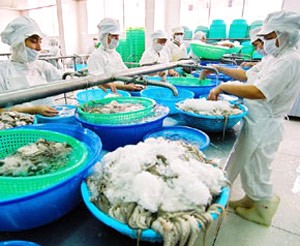 Processing squids for export
To date, Viet Nam has earned some US$280 million from exports of 80,000 tons of squids and octopus, an annual increase of 21 percent in volume and 34.8 percent in value, to provide some 7.7 percent of the country's aquatic product export earnings.
 
Japan remains the country's top importer, followed by EU countries and the Republic of Korea.
 
The most-exported items are squid slices, sashimi and flower-shaped octopi.