Nguyen Van Binh, a resident of Ho Chi Minh City's Binh Thanh District, bought a laptop last week from H.T computer shop on Tran Quang Khai Street for US$2,200 and paid VND38.3 million.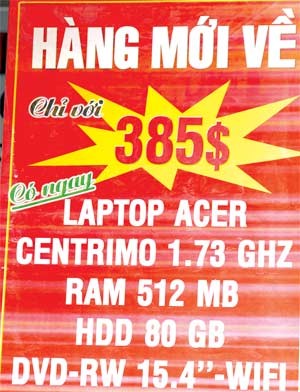 A HCM City shop quotes laptop price in US dollar
After two days, when he went back to take delivery of the computer, he was asked to pay an extra VND4.1 million since the value of the dollar had gone up in that period.
 
Tran Thi Thuy, a staff of Hoang Gia Trading and Manufacturing Company, said she signed a contract to buy a Toyota Fortuner V car when the exchange rate was VND17,488 to the dollar.
 
A month later, when she took delivery, the rate had increased to VND17,788 and she had to pay further VND12 million.
 
"I usually buy goods listed in dollars but did not pay much attention to the difference amount until I bought the car," she said.
 
Sellers claim that they do not want to fix prices in dollars but that it has become a habit for the market and consumers.
 
The manager of an automobile showroom on Nguyen Van Cu Street, District 5, said: "If prices are fixed in dong while the exchange rate keeps changing, car dealers will have to frequently change their prices. This affects business since the buyer and sellers have to negotiate prices whenever there is a new price.
 
"On the other hand, car buyers prefer doing business in dollars because it is convenient and they don't have to bring a big bunch of notes."
 
But in reality, in Vietnam, listing prices in dollars is illegal. Any seller wanting to do so to get approval from the Prime Minister.
 
The State Bank of Vietnam recently ordered official agencies to penalize shops and companies listing the prices of their goods and services in foreign currencies.
 
It also asked the Ministry of Information and Communications to direct media agencies to carry advertisements for goods and services in foreign currencies only for authorized companies and individuals.
 
The central bank also asked concerned ministries and provincial authorities to ensure individuals and companies who advertise or list prices in foreign currencies without authorization are penalized.