The Vietnam Steel Association (VSA) has objected to the 3-percent export tariff imposed on steel ingots and products by the Ministry of Finance (MOF), stating the tariff as unreasonable and one that would severely affect the country's steel industry.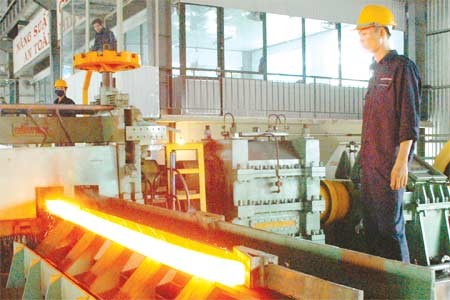 At Vitasteel factory in Ho Chi Minh City (Photo: SGGP)
According to the Ministry, the export tariff levied on steel ingots and some steel products should be raised to 3 percent because the steel industry is benefiting from low electricity price rates.
 
Steel factories have paid electricity bills at an average rate of VND1, 242 per kWh during 2010, while the standard rate is VND1,777 per kWh.
 
As a result, steel mills enjoy a profit of US$10-15 per ton, from the electricity price discount depending on modern or old furnaces.
 
The ministry said the sector has taken advantage of the low electricity prices to export steel.
MOF has proposed a tax levy of 3 percent on structural steel, cold rolled steel, welded steel pipes, metal plated corrugated iron and coated color corrugated iron in order to restrict the export of steel products. Besides, the ministry has also proposed to collect the export tax of 3 percent on ingot steel exports.
According to VSA, the electricity cost accounts for a very small percent in the cost price of steel products. Therefore, profits from making and exporting steel do not come from the low electricity price.
 
VSA said that the electricity rate of VND1,777 per kWh accounted for 7.35 percent of the production cost, taking that a ton of steel ingots consumes VND1 million worth of power.
 
For other steel products, the volume of power consumed is much less. For instance, rolling a ton of construction steel consumes only VND177, 000 worth of power, which is equal to 1.11 percent of producing one ton of steel.
 
VSA said the tax rise would not enable steel makers to stabilize production and business plans and hence discourage local as well as foreign companies to invest in the steel industry.
 
Steel ingot is the main material for producing steel. Local steel firms have been able to supply only 65 percent of steel ingot to meet the local demand.  
 
When the price of global steel ingot goes up, it has an adverse affect on the domestic steel price. Therefore, the Government has encouraged production of steel ingots in the country so as not to be dependant on imports. This is meant to stabilize the price of domestic steel.
 
When the price of global steel ingots rises higher than domestic prices, local steel makers push to export ingots.