Da Hoi village in Bac Ninh Province, well-known for its steel products, is struggling to survive as demand for its products fall.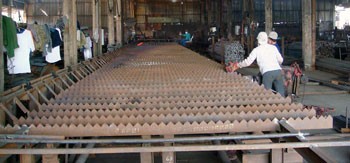 Thousands of steel workshops and stores have suspended operations in Da Hoi village.
"Around 1,700 workshops and hundreds of stores have suspended operations for the last two or three months" Pham Van Thinh, People's Committee chairman of Chau Khe Commune -- where the village is situated -- said.
Tran Van Binh, owner of Hoa Hai workshop, said: "Large iron and steel industry companies are unable to export because of the recent financial crisis. They are focusing on the local market, badly affecting small and medium-sized firms. Some villages are on the verge of bankruptcy."
More than 1,000 firms in Vinh Loc steel village in Ha Noi's Thach That District, Te Lo steel trading village in Vinh Phuc Province, and Van Chang steel village in Nam Dinh Province have closed down.
But Luu Duy Dan, deputy chairman and secretary-general of the Vietnam Handicraft Village Association, said times are bad for handicrafts too. "Handicraft villages making wood, pottery, and bamboo products in Ha Noi and Da Nang and provinces like Thai Binh, Nam Dinh, Bac Ninh, and Quang Nam are also operating at a loss."
"If the government does not address this problem, half these businesses, who employ more than 5 million workers, will close down" he warned.
Minister of Agriculture and Rural Development Cao Duc Phat said the most important issue is creating jobs for millions of people in rural areas and finding ways to support these businesses.
His deputy, Luong Le Phuong, added that the Government should instruct banks to offer low-interest loans and extend unpaid loans.
The chairman of the Vietnam Steel Association, Pham Chi Cuong, said: "One of the worries for the steel industry is that China has repealed steel export tax on December 1. Global steel prices have fallen sharply, as a result. The Government should slap an import tax to protect local businesses."