With new policies stimulating the realty market of late, the steel sector has begun to see positive signs in 2013, though growth is still lower than expected.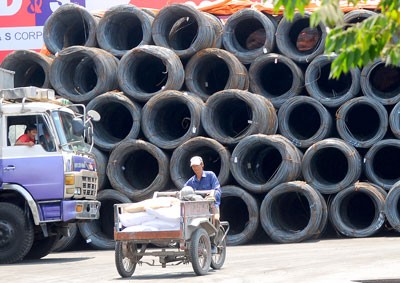 With new policies stimulating the realty market of late, the steel sector begins to see positive signs in 2013, though growth is still lower than expected  (Photo: SGGP)
Since early this year, steel prices have been increasing, now reaching VND17 million ($814.7) per ton. According to the Ministry of Construction, the quantity of steel was around 270,000 tons in March, an increase of 13,000 tons compared to February. The trade deficit in the steel sector in the first two months of this year topped US$1 billion, according to figures. The full-year figure in 2012 was as high as $5 billion.

A five percent year-on-year decrease or 30,000 tons in quantity in the first quarter of the year due to weak purchase power is estimated.
The Department of Customs said imported steel in the first three months of the year reduced by 11.6 percent compared to the same period last year.

Pham Chi Cuong, chairman of Vietnam Steel Association (VSA), said around 40,000 tons of steel had been consumed in March and figures in the first quarter of 2013 were more than one million tons. Slow consumption of steel in 2012 resulted in high inventory; however, once realty market is supported and exports open, inventory will shrink, Cuong said.

Another problem the sector is facing is that many companies are importing cheap Chinese steel, even what local steel makers are able to manufacture. Last year Vietnam imported millions of tons of cheap boron steel from China.
While the total import turnover was several million US dollars, the product was subject to zero import duty. The imported products were then sold as rolled construction steel, while the authentic construction steel was subject to a 10 percent import tariff.

Le Minh Hai, president of Viet Duc Steel Joint Stock Company, warns 2013 will still be difficult for construction material businesses but not quite as challenging as 2011 and 2012 because the Government's credit policies may ease pressure for construction materials to revive the real estate sector.

VSA sets growth target of 2-3 percent for 2013. Nevertheless, the target is dependent greatly on the government public investment and development of realty market. More importantly, fierce competition with Chinese counterparts can influence the target.
VSA therefore proposed to the government stricter control over imported steel. One of the solutions is to set up technical barriers and tighten procedures to apply for an import license and eliminate technical barriers that unnecessarily add to the challenges facing domestic steel businesses.

The Ministry of Industry and trade and the Ministry of Science and Technology said they are working on a decree to tighten control over imported steel. As per the decree, related agencies will take imported steel sample for testing of quality. With strict management on imported steel and low lending rate, the sector will see a new picture in the future.