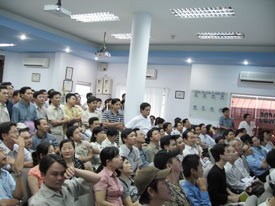 Investors watching the stock prices in ACBS floor the buying demand increasing again. (Photo: T.C)
Flying in the face of gloomy predictions by analysts, investors have been piling into Viet Nam's stock market in the past two days and indeed all of August if Tuesday's minor correction is discounted.
At the close of trading on Thursday, the VN-Index had reached 483.32, a three-week record for the market. Over the last six trading sessions, the VN-Index has soared by 53.07 points. It's been the strongest surge in two months.
Unlike in July, this month has seen the likes of the Cables and Telecom Materials - Sacom (SAM), the Vietnam Dairy Products - Vinamilk (VNM), the Vinh Son-Song Hinh Hydro Power (VSH) and the Refrigeration Electrical Engineering (REE) add 21% to 30% to their stocks' value.
Even the Sai Gon Thuong Tin Commercial Bank - Sacombank (STB), which was under huge selling pressure a few weeks ago, has rebounded with a vengeance and seen daily trade in the order of VND25 billion.
The newcomers to the Ho Chi Minh City Securities Trading Center (HSTC) this month – the Thanh Thanh Glazed Tile Company (TTC) and the Sai Gon Maritime Joint-stock Company (SHC) – are also up strongly, in stark contrast to the situation in July when several new listings were dropping like lead weights.
In the two days since SHC debuted, the 48th stock to list on the local bourse has added 8.33% to its market capitalization.
That's nothing compared to the performance of TTC, which has climbed 24.41% over five sessions, making it the second best performer of the moment and putting it just behind the Chang Yih Ceramic (CYC), whose shares have increased by the maximum 24.76%.
CYC is also the stock with the biggest imbalance between supply and demand. At various times this week, the volume of buy orders for CYC has exceeded sell order volume by as much as five times.
At market opening today, the biggest demand was for STB, VNM and VSH, in fact several hundred thousand shares in each case.
Investors watching the screens at the brokerage houses of ACB Securities (ACBS), Saigon Securities (SSI) and Vietcombank Securities (VCBS) were a cheerful lot and orders to buy were flying thick and fast, as were orders to sell. At least someone is heeding the gloomy prognostications of the analysts, who are tipping a sizeable drop in the near future.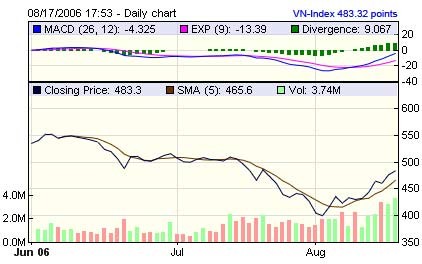 The Viet Nam's stock market awakening from the bottom of three month. (VCBS charting, Designed by T.C)
Related Articles:
Stocks Surged As Demand Booming
Additional Issuance via Auction Reaches an Impasse
Stock Exchange in Need of Foreign Investment
TTC - New Stock Lists as Market Jumps
Sacombank to Delay Share Sale In 2006
Foreign Investors' Shares Limited in REE Stock
Ceramics Company Joins the Stock Market
Vinh Son – Song Hinh Hydro Power Valued Roughly at VND 4,400 Billion
Sacom to Issue 14 Million Shares