The Ho Chi Minh Stock Exchange fell back into negative territory yesterday after gaining 1.6 percent on Tuesday as institutional investors remained on the sidelines.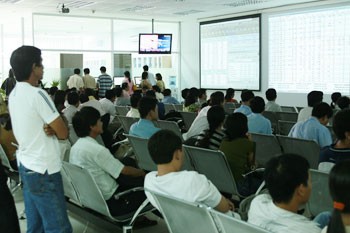 VN-Index fells back into negative territory on Wednesday.  
The VN-Index lost 6.45 points, or 2.2 percent, to close at 286.85. Of its 172 members, 116 declined, 30 advanced, and 22 remained unchanged.
Analysts said foreign and domestic funds sold off to bail out of the bearish market.
Imexpharm Pharmaceutical Joint Stock Co. (IMP) gained VND1,000, or 1.8 percent, to close at VND58,000. The company reported an 11-month pretax profit of VND64.7 billion (US$3.8 million).
Hai Phong Paper Joint Stock Co. (HAP) fell by VND700, or 4.8 percent, to finish at VND14,000, extending this year's losses to 79 percent. The papermaker, who exports to Taiwan and China, reported a profit of VND54.7 billion in the first 11 months, 68.4 percent of its target for this year.
Binh Minh Plastics Joint Stock Co. (BMP), which manufactures plastic pipes, fell by VND1,500, or the daily maximum permitted limit of 5 percent, to close at VND28,500. Citigroup Global Market Ltd. and Citigroup Global Market Financial Products Ltd. cut their stakes in the company to 5.15 percent from 6.1 percent through the sale of 159,422 shares.
Cuu Long Fish Joint Stock Co. (ACL) lost VND900, or 4.5 percent, to close at VND19,100. Le Thi Le, wife of Tran company chairman Van Nhan, cut her holdings from 18.9 percent to 13.3 percent by selling 500,000 shares.
The Hanoi stock exchange posted a 2.86-point, or 2.77 percent, fall to close at 100.25.