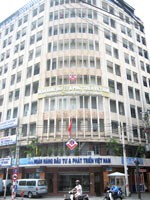 BIDV's head office in Ho Chi Minh City. (Photo: T.C)
As the first phase of the plan, in April, BIDV will raise VND 1,250 billion in a bond issued in Vietnamese dong and foreign currencies.
The bonds issued, called Fixed Rate Capital Securities (FRCS), are long-term debt instruments that allow BIDV to add the money raised to its capital. However, these bonds cannot be converted into stocks when the bank is equitized.
Mr. Dao Nguyen Le, BIDV's deputy general director, said the bonds have 10 – 15 years terms with particularly high interest rates, are underwritten by respectable institutions and will be listed in the near future. The bonds can also be bought back five years prior to their maturity. These characteristics make the bonds attractive to investors, mostly banks and financial institutions.
BIDV planned an initial public offering (IPO) in 2007. The government will own at least 51% of its shares in 2010 and below 51% in 2015. The detailed equitization plan is being built, and will seek the government approval in June. It is known that BIDV intends to list its stock on both Viet Nam and Singapore stock exchanges.
BIDV is the third state-run commercial bank, after Vietcombank and Mekong Delta Housing Development Bank, to initiate the equitization process.