The VN Index on June 23 ended lower than its benchmark on one day earlier as buyers showed less purchasing power and blue chips moved downward.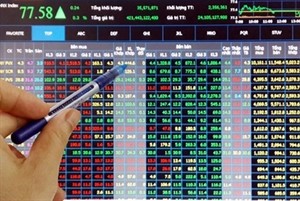 An investor uses a pen to mark a stock on the electronic trading board at the Hanoi Stock Exchange (Photo: VNA)
On the Hochiminh Stock Exchange, VN-Index lost 0.17 percent to finish at 593.07 points with a mixed performance between 110 advancers and 113 decliners.
Market liquidity remained high. Nearly 130 million shares were traded, worth 2.3 trillion VND (106 million USD).
The VN30, which tracks the 30 largest shares in terms of capitalisation and market value, also made a loss of 0.11 percent to 614.42 points with nine gainers and 14 decliners.
FLC Group (FLC) was the most active code on the market with 20.6 million shares traded, equal to a sixth of market trading volume. The shares dropped 2.22 percent to 8,800 VND per share.
Top blue chips that rose on June 22, including Vietcombank (VCB), Petro Vietnam Gas Corporation (GAS) and Vietnam Dairy Products Joint Stock Corporation (VNM), either stayed flat or fell.
In addition, other large-cap shares, such as Saigon Securities Joint Stock Company (SSI), Sacombank (STB) and Petro Vietnam Drilling & Well Service Corporation (PVD), also declined and pulled the market down. The three shares were down 1.26 percent, 1.06 percent and 0.92 percent, respectively.
The drop in the market, however, was limited as there were some codes that improved. Military Bank (MBB) rose by 0.63 percent, Vingroup JSC (VIC) was up 0.97 percent and Da Nang Rubber Joint Stock Company (DRC) gained 1.61 percent.
On the Hanoi Stock Exchange, the HNX Index dropped 0.39 percent to end at 87.09 points with decliners outnumbering gainers by 120 to 70.
Overall, the northern market traded more than 52 million shares, worth 577.8 billion VND (26.7 million USD), a decrease of 5.1 percent.
Many blue chips on the northern bourse also declined, including Asia Commercial Bank (ACB), Petrovietnam Northern Gas JSC (PVG), Petrovietnam Coating JSC (PVB) and Saigon Commercial Real-Estate JSC (SCR).
Only four stocks saw trading exceed two million shares on May 23, including Saigon-Hanoi Bank (SHB) as the most active stock with 4.6 million shares being traded. SHB also stayed flat.
Among the most active codes, the market saw improvements in KLF Joint Venture Investment Global Corporation (KLF) and FIT Investment JSC (FIT) with a growth of 1.43 and 2.31 percent.
Foreign investors concluded as net sellers, totalling a value of 301 billion VND (14 million USD) with focus on Vingroup Corporation (VIC) on the southern bourse and VNECO 9 Investment & Construction JSC (VE9) on the northern market.-VNA