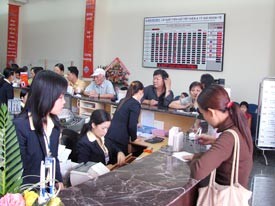 Viet Nam's banking is attractive to foreign investors. (Photo: TC)
In a draft submitted to the government, the State Bank of Viet Nam (SBV) has decided to maintain the current 30% cap on foreign ownership of any listed commercial bank despite pressure to raise the limit to 49%.
Among foreign organizations, only banks, financial groups, fund managers and other credit institutions can buy shares in Viet Nam's commercial banks.
The room for all these institutions is 30% stake of a domestic bank, in which each fund management companies is allowed to own the maximum of 5%, others can hold up to 10%, and an upper limit of 20% can be reserved for a strategic investor of the bank.
The central bank's point of view was reconfirmed in its latest draft of the decree on the foreign credit institutions' buying shares of Vietnamese commercial banks, which SBV submitted to the government last week. Regulation on buying and selling parties, possession rate, etc. saw few changes compared to the previous draft.
Once the domestic bank listed, the share sales to foreign investors must be subject to the current regulation of securities trading, but the total room stays put at 30% compare with the limit of 49% of other industries.
Room for a foreign investor is not limited after the bank's listing. However, if a share transaction leads to the possession of 5-20% stake of the bank, parties involved must hand in non-objective letters from governor of the bank. A transaction also has to have an approval letter from the SBV's Governor if it causes the share owning of a foreign investors to exceed 20%.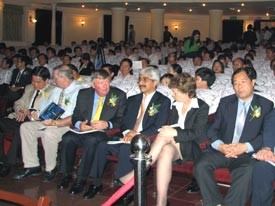 Foreign investors of Sacombank take part in its listing license granting ceremony. (Photo: T.C)
Sacombank is the first and, so far, the only commercial bank listed on the Ho Chi Minh City exchange on July 12. However, prior to its listing, the bank had commitment with 3 foreign partners, which owned 26.3% of the bank shares. The tiny room remaining was filled only after 5 trading sessions. Limitation in foreign investors' transactions was one of the reasons behind the shaky price of Sacombank shares right after its debut.
Tipping for the wider participation of foreign investors in domestic commercial banks, the Viet Nam Association of Financial Investors (VAFI) has just suggested the prime minister to expand the foreign buyers of bank stocks, while increase the room to 49% of banks' chartered capital, and increase the limit for strategic investors to 30%.
However, in SBV's official point of view, at the moment, banking is a special and sensitive industry which needs strict regulation to an extent. Moreover, the limitation of 30% is also accepted by Viet Nam's WTO partners.
Related Articles:
Turbulent Exchange Week Mellows Out
Viet Nam Exchange Opportunity Knocks for American Investors
Stock Exchange in Need of Foreign Investment
Sacombank's Share Makes Debut in HCMC Bourse
New Regulation on Sacombank's Stocks Purchase
Foreign Investors Still Limited to Buy 30% of Vietnamese JS Bank