The first stock exchange center in central Viet Nam will be opened in the central city of Vinh, Nghe An Province, to provide local investors with easy access to the stock markets.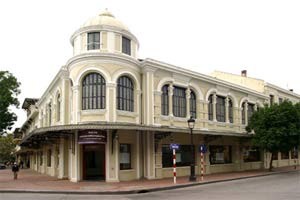 The headquarters of the Ha Noi Securities Trading Center

A signing ceremony was held yesterday between the An Phu Trade and Construction Joint Stock Company and the Hanoi-based VNS Securities Company (VNS) to open the center at 45 Ho Tung Mau Street, Vinh.

VNS will provide the An Phu Trade and Construction JSC with shareholder management services and consulting services on share issues.

There are currently two stock exchange centers operating in Viet Nam, the Ha Noi Securities Trading Center (HASTC) which came into operation on March 8, 2005, and the Ho Chi Minh City Stock Exchange (HOSE) which officially began operations on July 28, 2000 under the original name "Ho Chi Minh Securities Trading Center (HOSTC)".

The emergence of stock exchange centers in Viet Nam is an important turning point opening up a new chapter in the country's process of development and modernization.