Ho Chi Minh City Securities Trading Center (HSTC) welcomed the 46th stock on the exchange – COM share of the Petroleum Materials Joint-stock Company (Comeco) on August 7.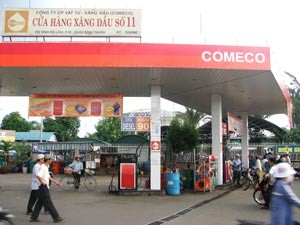 Comeco has 30 petrol stations in Ho Chi Minh City and nearby provinces. (Photo:T.C)
Comeco listed 3.4 million COM shares with the total listing value of VND 34 billion. In its debut session, there were 7,900 COM shares changing hands, priced at VND 39,000 each.
Comeco currently has 30 petrol stations in Ho Chi Minh City and nearby provinces, equipped with modern technologies, similar to those of other countries in the region. Comeco's management system has been computerized and operated corresponding to the quality control system ISO 9001:2000, approved by the international organization BVQI. This will help Comeco to have competitive advantage over other enterprises in the same industry.
At closing, the whole market saw 7 stocks surge, 10 stocks stay flat and 29 drop. The total trading volume reached 2,119,580 shares, equivalent to VND 109 billion.
VN-Index dropped to 423.49 points, a decrease of 12.01 points (-2.76%) compared to the previous session last week.
While the market is still in somewhat instable situation, on August 8, HSTC will welcome Thanh Thanh Glazed Tile with the listing value of VND 40 billion.
Related Articles:
Viet Nam Stocks Leave Low-times Behind
Three New Listings for HSTC
Ceramics Company Joins the Stock Market