Vietnam's State Securities Committee (SSC) has held a workshop to publish changes to Decree 58/2012/ND-CP, which aim to implement and amend the Securities Law in order to improve the efficiency of the national stock market.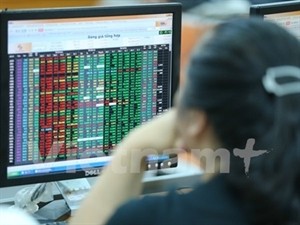 (Photo: VNA)
Vu Quang Viet, Director of the SSC's Legal Affairs Department, said that by March 20, the national stock market had total capitalisation of VND1.2 trillion (US$57.1 million), representing 30.6 percent of Vietnam's GDP.
Over the past two and a half years, the national stock market had recorded an average trading value of VND3.16 trillion (US$150.4 million) each session, with 679 stocks listed on the market with total face value of VND441 billion (US$21 million), he said.
Decree 58 also helped securities companies restructure to improve their financial management, internal administration and risk management, he added.
In an attempt to improve the Decree, the SSC has collected ideas and opinions from Government agencies, investors and companies involved in the securities business.
Viet said that the new Decree will complete the legal framework for the securities market to match international rules, solve market problems for individuals and organisations, attract foreign investment and create a fair and transparent securities environment.
It will focus on several major issues, including private placement, in which shares were sold to a small number of selected investors without public announcement, and public placement, in which shares are made available for sale on the public market, he said.
According to the amended decree, private placements are intended to raise capital, reduce debts or exchange stakes in other companies (for public limited companies), or to transform into public limited companies (for securities companies).
Any company that wants to issue private placement has to complete the sale within 90 days of the SSC receiving all of its registration papers.
If a company organises a shareholder meeting before a private placement is completed, the board of directors will have to ask for permission from shareholders to continue.
The board of directors can only change plans on the use of capital if they are approved by shareholders and comply with company regulations, and has to publish the amended plans to investors within 10 days.
The company also has to report the total capital raised from issuing private placements at shareholder meetings, and have it reviewed and confirmed by auditors.
On the other hand, individuals and organisations cannot issue public placements if the organisation is unqualified to issue a public placement or the organisation is selling shares publicly to become a company.
However, there are some exceptions for an organisation to sell shares, including transforming into a securities company, or selling the state's stake from a state-owned company to the public.
Public placements must be run by securities issuing companies, except for state-owned organisations selling their shares to non-state investors, or big shareholders selling their stakes in public limited companies, or securities firms selling the warrants or rights to the market.