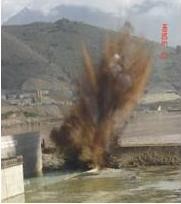 The Son La Hydro Power.
Electricity of Viet Nam (EVN) says it will issue VND600 billion worth of bonds on September 1 to raise funds for the Phu My gas – electric – nitrate project, Son La Hydro Power, and Quang Ninh – Thuong Tin 500 kV electric route.
Bonds in this issuance have the nominal value of VND100,000 each and the term of 5 years. All of them are registered bonds.
Different from the bonds EVN has already issued, the new bonds will have the a fixed interest rate 9.6% paid annually for 5 years. Principals are paid on maturity.
According to Mr. Dang Van Tuong, EVN's head of equitization and securities, EVN has mobilized VND3.5 trillion after 5 bond issuances. The capital EVN mobilized is expected to reach VND5  to 10 trillion by the end of 2006.
Related Articles:
EVN Prepares To Issue an Extra VND 600 Billion Worth of Bonds
EVN Strives to Supply Enough Electricity for 2006-2007
EVN to Issue VND-900-Billion Worth of Bonds