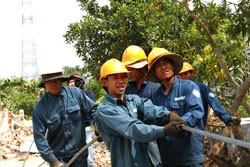 Workers build electricity grid (Photo: Duc Thanh)
According to Electricity of Viet Nam (
EVN
), as planned in May, EVN will sell its stakes in 3 equitized power plants: Thac Ba Hydro Power Joint-stock Company, Pha Lai Thermal Power Joint-stock Company, Vinh Son - Song Hinh Hydro Power Joint-stock Company. The total value of the stock sales is estimated at VND1,500 billion.
EVN will hold only 51% of these plants' shares instead of 60% and 70% currently. Last year's initial public offering (IPO) of these shares was welcomed; and after 3 months investors still want to own more of these stocks.
According to EVN's Vice-Director, Mr. Dinh Quang Tri, this second issuance aims to accelerate the equitization process and raise fund for key projects.
There will be VND37,500 billion for building electricity supplies and grid. Part of this amount comes from projected electricity price increase, which is not welcomed by the public. The stock sales not only helps mobilize a large amount of capital but also bring a new life to these equitized plants.
In the plan of restructuring the electricity industry, EVN will only intend to hold 100% shares at 3 large hydroelectric plants of Hoa Binh, Tri An, and Yaly.
Moreover, as for the strategy to establish a competitive electricity market within 10 years, the State will reserve its monopoly in electricity transporting and controlling rights of producing and distributing electricity.
Related Articles:
EVN Should Reduce Its Holding in Equitized Plants: VAFI
Electricity of Viet Nam to Sell VND350 Billion in Bonds