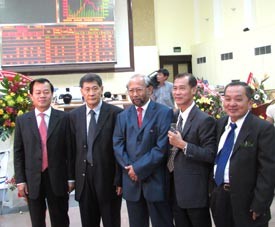 Board directors of Interfood, Director of HSTC and Malaysian Ambassador (center) at the IFS stock's listing ceremony. (Photo: T.C)
Tuesday October 17, the Interfood Shareholding Company (Interfood) officially brings its 5,729,472 shares of VND57.29 billion at par value to list on the Ho Chi Minh Securities Trading Center (HSTC).
This is the first Malaysian-invested enterprise to list on the bourse and it's also the fifth transformed foreign direct investment (FDI) company to join Viet Nam's stock exchange, after Taya, Tung Kuang, Full Power and Chang Yil.
Since its establishment in 1991, Interfood has grown fast and stablly in terms of capital, assets and business performance. After converted to a shareholding company, the company has finished the initial public offering (IPO) to increase the chartered capital to VND242.84 billion, equivalent to US$15.3 million, in June 2006.
"The event of listing our stock at HSTC starts a new chapter in Interfood development in Viet Nam. After listing, we are exposed to broader and more choices in choosing our funding strategy to finance our future business expansion here and abroad", Chairman and General Director of Interfood Pang Tee Chiang said.
On the local market, its products have always been in the list of sixty most favorite products of foreign invested companies and consecutively awarded Vietnamese High Quality Product Certificate in the last six years.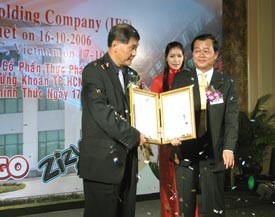 Mr. Pang Tee Chiang (L), Chairman and General Director of Interfood, gets the listing certificate from Mr. Tran Dac Sinh, Director of HSTC. (Photo: T.C)
Additionally, all products of Interfood meet international quality standards as the result of the application of HACCP management process, which was certified in May 2006. Export revenue has risen up to USD11.43 million, tripling its performance in 2004. Accordingly, the share of the export value in the total net sales has increased from 20% during the period 2001-2004 to 35% in 2005. The export market has been expanded from main focus in Asian countries to American and European countries.
Its income before tax last year is US$3.77 million and for the half year ended June 30, 2006 is US$2.34 million on the back of a turnover of US$20.8 million. Dividend paid in 2005 was 23% in comparison with 10.52% in 2004.
"Viet Nam's economy has gained fast and stable growth and this trend will continue in the future. Earnings of most parts of Vietnamese will be increasing as well. The trend of higher consumption on foods and drinks of young people is very clear. Export barriers will be much lowered thanks to Viet Nam's more integration to the world market and increase of economic globalization", Mr. Pang Tee Chiang appraised about the opportunities of the drinkables industry after WTO.
In its debut session today, 132,580 IFS shares changed hands, priced at VND50,000 each with the trading volume of VND6.63 million (about US$414.000). The 51st stock on the bourse brings the exchange's total chartered capital to VND8.1 trillion (over US$506 million) and the market capitalization to over VND50 trillion (about US$3.2 trillion).
Related Articles:
The Fiftieth Stocks in Ho Chi Minh Bourse
Interfood Raised VND 74.9 Billion from IPO
FDI Enterprises Raring To List