The slumping stock market has forced a Hanoi-based brokerage to consider on giving up its stock brokerage business to shift their capital towards other sectors.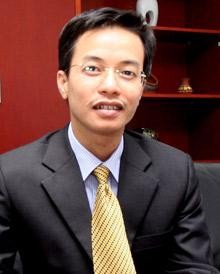 Chairman Ha Hoai Nam of Kim Long Corporation (Photo: www.vinacorp.vn)
Chairman Ha Hoai Nam of Kim Long Securities Corporation, listing on the Ho Chi Minh Stock Exchange coded KLS, said the firm would likely to switch from providing stock brokerage services to offering trading and offering property consultancy and ecommerce services.
However, chairman Ha Hoai Nam said the move would be not the signal of a retreat from the stock market.
"The model of an investment company will make Kim Long more flexible in investing stocks," Nam told Dau Tu Tai Chinh Newspaper.
"Our large capital will enable us to make initial decisions as to whether we should enter the stock market," he said.
Nam also said the brokerage would not sell off their investment portfolio of listed and unlisted stocks, which is worth more than VND500 billion (US$25 million). Kim Long even planned to buy some more, using a trading account at another securities firm, the chairman said.
Nam said his firm already had customers for property consultancy services, who are among his brokerage's clients. Ecommerce services would be a long-term investment, which does not cost much, he said.
Around 40 percent of the total number of shareholders have given a green light to the shifting plan, while Nam was confident he could get nod from the rest at the upcoming shareholders' meeting.
"The change will help the company avoid making further losses, caused by the gloomy market," Nam said.
"The firm's brokerage services including stock trading consultancy, guarantee of stock issuance and proprietary trading have made no money amid the plunging stock market. Despite having VND1.8 trillion in cash, we dare not to invest in the market, which has been very quiet so far this year.
"Besides, we made good profit from lending the amount of cash, earning VND25 billion ($1.25 million) in January and VND22 billion in February. The profit helped cover the firm's monthly expense, which is up to around VND6 billion."
The chairman also disclosed if the business shifting plan was approved at the next shareholders' meeting, the firm would help clients to open account at other brokerages.
The Ho Chi Minh Stock Exchange's VN-Index, the country's major index, slid 4.02 percent, the most since November 26, 2009, to 483.68 on February 21, with 253 out of 280 stocks losing ground. The gauge has lost 10 percent since the market reopened after the Tet holiday.