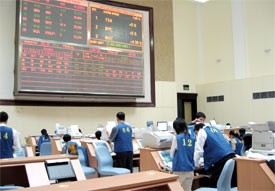 The VN-Index on Ho Chi Minh City bourse has gone down 65 points in two near sessions. (Photo: T.C)
As usual, the first trading session on Thursday, December 21, 2006 began with most commands ordered from the previous day to before 8:20am when the market opened. But this was the start of evil days in the week.
IT industry's FPT stock price, which had been continuously soaring for many consecutive days since joining the stock exchange with the highest price US$24.9 last week, decreased for the first time.
This bad sign and the warning on newspapers of director of Ho Chi Minh City Securities Trading Center (HSTC) Tran Dac Sinh, plus the sudden drop of securities prices on Thailand and Asia, caused Viet Nam stock market to plunge on Thursday and Friday.
At HSTC, after reaching the history peak two days ago, VN-Index to the end of today is only 744.15 points, decreasing 65 points in two sessions. The total trading volume and fund certificates only reach US$24.6 million.
However, that is only an external expression when the a large quantity of stock valued at nearly US$62 million (VND1 trillion) at floor price were not bought, such as IT industry's FPT US$18.4 million, TDH of Thu Duc House US$8.9 million, REE of ReeCorp US$4.9 million, hydro electricity VSH US$3.8 million, VNM of Vinamilk US$3 million, VF1 of Vietnam Securities Fund US$3 million.
On Ha Noi Bourse, the situation was not better either as the hot stocks of securities companies of Sai Gon (SSI) and Bao Viet (BVS), after increasing continuously for many days, lost 18% of its value.
Moreover, two new prospect stocks of HCMC-based trading and service company Savico on Ha Noi bourse and Hau Giang Pharmaceutical on Ho Chi Minh City bourse have their prices down after reaching the high price on the first day of joining.
Director of HSTC warned that the average PEs of Vietnamese listing stock has reached 38. (Photo: T.C)
And as usual, the foreign investors are still considered a brake to slow down the drop in prices while the market kept buying in US$18.7 million stock values on Thursday in HSTC, about 40% of the trading volume, and concentrated on the large securities important to the VN-Index.
In his writing, Mr Sinh warned that Viet Nam stock market reached the average price level per stock profit (P/E), 38 compared to 10 to 17 of the other market.
"At present, the stock price has exceeded its net value so high that there is a difference which the market itself will adjust at anytime", he said. He advised that investors should be prudent, and not to follow the crowd. Many new individual investors responded to Mr Sinh's advice, resulting in the drop in prices.
Nevertheless, the price drop on Thursday and Friday was not anything unusual, considering the hot increase of the last several days. This was a first shock for individual investors who were new-comers in the stock market.
The shock does not necessarily drive the crowd out of the bourses, but it reminds investors of a known statement on the bulletins that they usually forget, "Stock prices can be up or down!"
Related Articles:
Market Declines Sharply
SSI Off to a Flying Start on Ha Noi Bourse
Northern Bourse Welcomes First Two Securities Firms
Viet Nam IT Leader Makes Strong Debut on Stock Exchange
HCM City Stock Exchange Ups Ante
Listing Frenzy Pushes Market Cap Above $7 Billion
New Remarkable Stocks