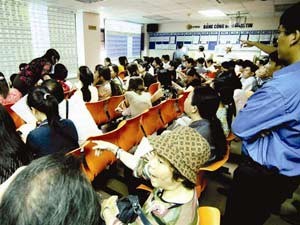 Viet Nam's stock market boosted by foreign investment funds (Photo: Tien Phong Newspaper)
After the market fell sharply, it recent recovered strongly in 2 consecutive trading sessions as foreign investment funds announced to buy a large number of key stocks, creating a significant impact on the market.
On August 4, CII shares nearly disappeared from the market as the selling side sharply decreased upon the news the day before from the Viet Nam Dragon Fund Limited (VDF) that it will purchase an additional 1 million shares, raising its stake in the Ho Chi Minh City Infrastructure Investment Joint-stock Company (CII) to 5%.
Moreover, there is news, at the end of last week, from VDF and another foreign investment fund, the Grinling International Limited (Grinling), confirming that they will continue to buy in more REE shares of the Refrigeration Electrical Engineering Corporation (ReeCorp) and VNM shares of the Viet Nam Dairy Products Joint-stock Company (Vinamilk) in large number from now to the end of November.
It is estimated that VDF will increase its stake to 1.55 million REE shares (5.33%) from 0.5 million shares. The fund will also buy 1 million VNM shares to reach 2.83 million shares owned (1.78%).
Meanwhile, Grinling, which is the member of both companies' boards, intends to buy 1.5 million shares of each company in the near future.
More significantly, the Viet Nam Securities Depository (VSD) said that Merrill Lynch, which is currently managing more than US$ 1.8 thousand billion of assets in 40 countries, has received trading code and is ready to invest in Viet Nam.
Those facts confirm that foreign investors will continue to buy more key stocks although the market was sharply down previously. This trust of foreign investors quickly helped stock prices in the market to recover strongly on recent days.
Related Articles:
Rushing to Set up Securities Firms
Viet Nam Stocks Leave Low-times Behind
Viet Nam Dragon Fund Buys More of CII
Viet Nam's Stock Market Still Far from Surplus
Merrill Lynch Enters the Viet Nam's Stock Market